Sika Sikadur 32 Normal 2 Component Structural Epoxy Bonding Agent 0.87ltr
2-COMPONENT STRUCTURAL EPOXY BONDING AGENT
DESCRIPTION
Sikadur®-32 Normal is a moisture tolerant, structural, two part bonding agent, based on a combination of epoxy resins and special fillers, designed for use at temperatures between +10 °C and +30 °C.
USES
Sikadur®-32 Normal may only be used by experienced professionals.
Sikadur®-32 Normal is used as a structural bonding agent and adhesive for:
Concrete elements
Mortar, bricks, masonry
Steel, iron, aluminium
Polyester / fibreglass and epoxy resin materials
Typical applications for Sikadur®-32 Normal are:
Bonding of new concrete screeds to existing floors
Bonding of plaster toppings and overlays to existing substrates
Bonding new concrete to old at construction joints
Bonding of tile bedding mortars to existing substrates
CHARACTERISTICS / ADVANTAGES
▪ Easy to mix and apply
▪ Suitable for dry and damp concrete surfaces
▪ Very good adhesion to most construction materials
▪ High bond strength
▪ Hardens without shrinkage
▪ Different coloured components (for mixing control)
▪ No primer needed
▪ High initial and ultimate mechanical strength
▪ Impermeable to liquids and water vapour
▪ Good chemical resistance
APPROVALS / STANDARDS
Structural bonding agent tested according to EN 1504-4, provided with the CE-mark
PRODUCT INFORMATION
Chemical Base Epoxy resin
Packaging 0.87 litre unit
Colour Component A: white
Component B: dark grey
Components A+B mixed: concrete grey
Shelf Life 24 months from date of production
Storage Conditions Store in original, unopened, sealed and undamaged packaging in dry conditions at temperatures between +5 °C and +30 °C. Protect from direct sunlight.
CODE: N30485946
(N30485946)
Be The First To Review This Product!
Help other GFC fasteners and construction products users shop smarter by writing reviews for products you have purchased.
Others Also Bought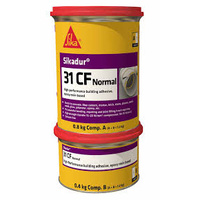 Sika Sikadur 31 CF Normal 2 Part Epoxy Adhesive Part A 20kg of 30kg
$300.00
excl GST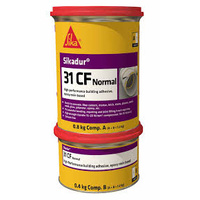 Sika Sikadur 31 CF Normal 2 Part Epoxy Adhesive Part B 10kg of 30kg
$187.27
excl GST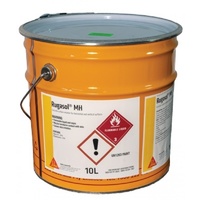 Sika Rugasol MH Extra Surface Retarder 20ltr
$432.64
excl GST
Related Products