Tech Pac Camo
This Tech Pac Camo backpack tool bag just got better! If you're any kind of technician, you're going to love the layout of this bag designed specifically for professional tradesmen who need to climb ladders or walk long distances on a daily basis.
Veto Pro Pac's Award-Winning Tech Pac Backpack Tool Bag just got better!
The Tech Pac Camo backpack tool bag is designed specifically for professional tradesmen who need to climb ladders or walk long distances on a daily basis. Our Camo version features TRUETIMBER's KANATI Pattern, YKK locking zippers, a magnetic screw catcher, metal shoulder strap sliding buckles, light grey interior pockets for better visibility, redesigned front top pockets for better storage and a redesigned stainless-steel tape clip holder.
The Tech Pac Camo features Veto Pro Pac's patented centre panel, heavy duty construction and stabilising injection moulded waterproof base that keeps tools dry, even in the nastiest of conditions. This backpack is also made for comfort with a thermo-formed EVA padded back panel that helps cushion the load (which also provides structural stability), a padded load displacing shoulder strap system with multiple adjustment strap points and an ergonomic TPV rubber grip.
PRODUCT SPECIFICATIONS
Width: 251mm
Length: 362mm
Height: 547mm (with handle folded down)
Weight: 4.1kg (empty)
MAXIMIZED TOOL STORAGE CAPACITY
Vertical Tool Pockets: 56 interior and exterior tool pockets of various sizes
2 Storage Bays- 4 Storage Platforms
Manifold Gauge and Hose Storage Pocket
D-Rings: 4 large and 5 small
Outside Mounted Stainless Steel Tape Clip Holder
Cable and Accessory Pockets
RUGGED MATERIALS & CONSTRUCTION
LOAD TESTED: PULLED TO DESTRUCTION AT 376.5kg (Handle failed); Hook failed at 90.7kg
Weatherproof Base: 3mm Injection Moulded Polypropylene
Weatherproof Body Fabric: 950 and 1250 PVC Impregnated Denier Nylon
Weatherproof LIGHT GRAY Tool Pocket Fabric: 1800 PVC Impregnated Denier Nylon- LIGHT GRAY FOR BETTER VISIBILITY
Quick Release Metal Hasp: Allows Easy Access to Rear Storage Bay
Strap Load Connection
Internally Stored Aluminium Hook to Hang Bag
Over-Moulded Ergonomic Grip
Padded EVA Thermoformed, Ergonomic Back Padding
Zippers: Double Stitched, Heavy Duty Plastic Coil Zippers with Oversized Zipper Tabs
Metal Shoulder Strap Sliding Buckles
D-Rings: Powder Coated Steel
Rivets: Marine Grade Rivets
Stitching: Industrial Strength Double Nylon Stitching
OTHER FEATURES
Adjustable Padded Shoulder Straps
YKK Locking Zippers
Magnetic Screw Catcher
Tablet/All-Purpose Zippered Pocket
KEEP THE ZIPPERS CLEAN AND LUBRICATED
Over time, dirt and grit will "clog" the zipper coils preventing them from staying closed. To keep this from happening, clean and lubricate your zippers twice a year (more often if you work on a job site with a high amount of airborne debris). To clean the coils: Scrub them with soapy water; a tooth brush works very well. After scrubbing the coils, blow them out with an air hose to dislodge any other fine grit that didn't dislodge with the brush. To lubricate the coils: Apply a silicone spray, beeswax or a zipper lubricant.
PROTECT THE ZIPPERS FROM SHARP OBJECTS AND/OR EXCESSIVE HEAT
Any sharp object or heat source is capable of permanently damaging the zippers. Once a zipper coil is cut or singed the zipper will not function and in most cases is not repairable. Most of the cut zipper coils we see are the result of sharp tools stored inside the bag with the sharp side facing up. Make sure to keep the sharp edges of your tools facing down in your bag and away from the zipper coils.
DON'T OVERSTUFF THE BAG
Overstuffing your tool bag will very likely cause significant stress on the zippers that is above and beyond what the bag was built for and will eventually cause the zipper(s) to separate. If you have to work hard to close your zipper(s), your tool bag is most likely overstuffed…proceed with caution!
(TECH-PAC1CAMO)
| | |
| --- | --- |
| SKU | TECH-PAC1CAMO |
| Brand | Veto Pro Pac |
Be The First To Review This Product!
Help other GFC fasteners and construction products users shop smarter by writing reviews for products you have purchased.
Others Also Bought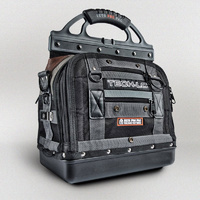 Veto Pro Pac Tech LC Large Tech Tool Bag
$365.90
excl GST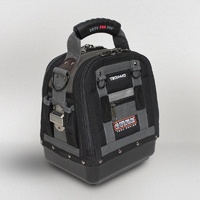 Veto Pro Pac Tech MC Compact Tool Bag
$325.90
excl GST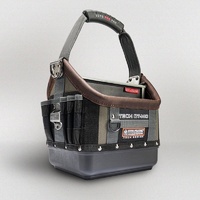 Veto Pro Pac Tech OT-MC Tool Tote
$335.90
excl GST
Related Products