Ramset SpaTec Plus M12 x 120mm
PRODUCT DESCRIPTION
The SpaTec™ Plus Safety Anchor is a heavy duty, torque controlled expansion anchor, with an integrated pull-down section, designed for high performance in both static and dynamic load applications, in both cracked and non-cracked concrete~
The SpaTec™ Plus is ideally suited for through fixing into concrete when security and reliability are paramount.
~Whether a concrete element is classified as cracked or non-cracked is to be determined by a qualified structural engineer
Features & Benefits
• The combination of a high tensile class 8.8 bolt with an extra thick-walled
spacer allows a smaller diameter bolt to be used for easier installation
while still providing both excellent tensile and shear performance. The
spacer also incorporates a visual maximum fixture thickness indicator for
ease of use.
• The patented anti-rotation expansion sleeve is designed with sharp angled
protrusions that grip the sides of the hole, preventing anchor rotation
during installation. As expansion of the sleeve begins, the locking barbs
also grip the sides of the hole, further embedding as expansion
progresses, giving extra holding power. The sleeve pulls down during
tightening ensuring excellent pressure between the fixture and the
concrete.
• The low profile hex or countersunk heads provide a neat finish.
PRODUCT SIZE: M12 X 120
PRODUCT CODE: SP12120
(SP12120)
Be The First To Review This Product!
Help other GFC fasteners and construction products users shop smarter by writing reviews for products you have purchased.
Others Also Bought
Related Products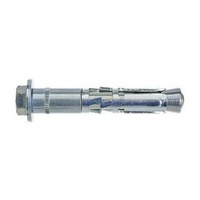 Ramset SpaTec Plus M16 x 145mm
$25.20
excl GST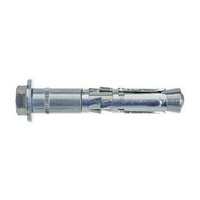 Ramset SpaTec Plus M20 x 170mm
$31.81
excl GST