Sika Sikasil NG Clear 300ml Cartridge
DESCRIPTION
Sikasil® NG is a neutral cure, silicone sealant which provides a permanent watertight seal to various substrates including acrylic plastics, ceramics, and some powder coated surfaces. Sikasil® NG exceeds the 15 year minimum requirements of the durability provisions of the New Zealand Building Regulations 1992 Clause B2 providing:
It is used in strict accordance with the manufacturer's recommendations.
It is used with the design parameters stated in the data sheet.
It is used in conjunction with other approved building systems and materials.
Durability covers weathering and adhesion characteristics. For conditions outside those stated in this data sheet, contact Sika's Technical Service Department.
USES
Sikasil® NG has been specifically formulated for use as a joint sealant between acrylic plastic shower, bath and basin units and adjacent building components.
Sikasil® NG is also suitable for general purpose sealing to and between a wide range of plastics.
CHARACTERISTICS / ADVANTAGES
Excellent adhesion to acrylic, ABS and polycarbonate plastics
Recommended for use with Hardiglaze, Duracryl, Clearlite Showers, Athena Showers, Kohler and Seratone and many other panels
Remains flexible at low (-40°C) and high (+150°C) temperatures
U.V. resistant
Fast cure
Low shrinkage during cure
Also suitable for glass, metals, coated/painted metals, and timber
PRODUCT INFORMATION
SIZE: Packaging 300 ml cartridge, box of 12
COLOUR: CLEAR
CODE: N30446067
Shelf Life Twelve (12) months when stored as stated.
Storage Conditions Store in original unopened packaging in cool, dry conditions.
Density ~ 1.01 g/cm³
Solid Content ~ 95%
Yield On average one 300ml cartridge will supply 15 m of 5mm sealant bead.
Skin Time 20 minutes
Tack Free Time 120 minutes
(N30446067)
Be The First To Review This Product!
Help other GFC fasteners and construction products users shop smarter by writing reviews for products you have purchased.
Others Also Bought
Sika Sikaflex MS White 300ml Cartridge
$17.27
excl GST
Sika Sikaflex MS Black 300ml Cartridge
$17.27
excl GST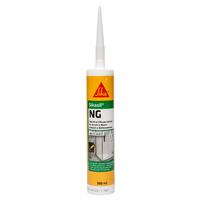 Sika Sikasil NG Arctic White 300ml Cartridge
$21.78
excl GST
Related Products