Sika Sikasil Wet Area White 300ml Cartridge
ALCOXY SILICONE SEALANT
DESCRIPTION
Sikasil® Wet Areas is a one-component neutral curing silicone sealant suitable for wet area applications. It is used as a joint sealant between a variety of substrates.
USES
Sikasil® Wet Areas is a highly durable silicone rubber that has excellent long term performance in wet areas where there is high humidity, including commercial and residential bathrooms and toilets, showers and wash down areas, kitchens and laundries. Sikasil® Wet Areas has good resistance to the growth of mould and fungus on its surface. It is highly elastic and flexible and has very strong adhesion to a wide variety of "wet room" surfaces including:
▪ Porcelain whiteware and fittings
▪ Painted surfaces
▪ Ceramic tiles and grouts
▪ Glass
▪ Plastic laminates
▪ Stainless steel
▪ Rigid PVC, acrylics, polycarbonate
▪ Metal, copper and brass fittings
▪ Powder coated aluminium
▪ Concrete
CHARACTERISTICS / ADVANTAGES
▪ Highest quality, non-sag
▪ Excellent adhesion to a wide range of substrates
▪ Highly elastic +/-25%
▪ Excellent UV resistance
▪ Non-corrosive
▪ Fast curing
▪ Low odour
APPROVALS / STANDARDS
Complies with ISO 11600 – Type F – Class 25LM and ISO 11600 – Type G - Class 25 LM. Suitable for use under Clause E3 of the Building Code – Internal Moisture.
PRODUCT INFORMATION
Packaging 300ml cartridges, 12 cartridges per box
Colour white
Shelf Life 18 months from date of production when stored as stated below.
CODE: NSIKWET
(NSIKWET)
Be The First To Review This Product!
Help other GFC fasteners and construction products users shop smarter by writing reviews for products you have purchased.
Others Also Bought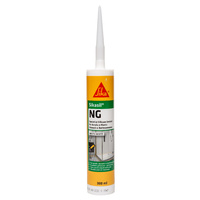 Sika Sikasil NG Clear 300ml Cartridge
$26.14
excl GST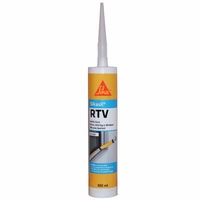 Sika Sikasil RTV Bathroom and Tile White 300ml Cartridge
$21.00
excl GST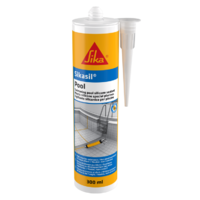 Sika Sikasil Pool Silicone Grey 300ml Cartridge
$28.14
excl GST
Related Products