Sika Purigo 5 S Concrete Dust Proofer 20ltr
CONCRETE DUSTPROOFER AND SURFACE HARDENER
DESCRIPTION
Sika® Purigo-5 S (NZ) is an economical, easy to use surface hardener and dustproofer for concrete floors. It is a liquid based on 'activated' sodium silicate which reacts chemically with calcium hydroxide in the concrete to bind up and tighten the top surface, producing a hard, dust free finish.
▪
Sika® Purigo-5 S (NZ) can also be used to assist with curing of newly laid concrete surfaces. The microcrystalline sealing action of Sika® Purigo-5 S (NZ) binds up the surface pores. This reduces the evaporation of moisture from the concrete and thus helps to assist in better hydration of the cement
▪
USES
Sika® Purigo-5 S (NZ) is an efficient, economic product for use on concrete floors to prevent surface dusting from occurring. It will not, however, make bad disintegrating concrete good. Examples of flooring situations that would gain beneficial effect from the use of Sika® Purigo-5 S (NZ) are:
▪ Warehouses and storage facilities
▪ Factories and assembly plants
▪ Carpark decks
Sika® Purigo-5 S (NZ) can be used to assist with the curing of concrete in vertical or horizontal situations where traditional methods are impractical, or subsequent coatings are to be applied which preclude the use of membrane type curing compounds.
▪
CHARACTERISTICS / ADVANTAGES
Very quick and easy to apply
Can be used on both new and old concrete
Chemically reacts with concrete to become an integral part of the surface matrix.
Sika® Purigo-5 S (NZ) is the economical answer to the problem of surface dusting.
Will not prevent overcoating when used to assist with curing of concrete▪
Ideal for use as an aid to improve curing when traditional curing methods and membranes are impractical
Helps concrete attain maximum hydration, strength, durability and surface hardness.

APPROVALS / STANDARDS
Sika® Purigo-5 S (NZ) has been tested for curing efficiency and at a coverage rate of 5.5m²/litre the average water loss (evaporation) is 1.42kg/m². Although this result does not meet the requirements for the standard ASTM-C309, it is very effective in areas where film forming membranes, or ponding methods cannot be used.

PRODUCT INFORMATION
Chemical Base Water based liquid
Packaging 20 litres
Appearance / Colour Clear liquid
Shelf Life Twelve (12) months from date of manufacture if stored as stated.
(N30446341)
Be The First To Review This Product!
Help other GFC fasteners and construction products users shop smarter by writing reviews for products you have purchased.
Others Also Bought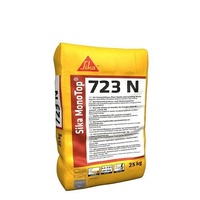 Sika Monotopic 723N Sealing and Levelling Mortar 25kg Bag
$137.72
excl GST Sika Monotop Fairing Coat 18kg
$117.11
excl GST Sika Pea Metal Bulk Fill 25kg Bag
$28.50
excl GST
Related Products