Sika Sikadur 52 N Injection Normal 2 Part Epoxy Low Viscosity Resin 0.9ltr
EPOXY LOW VISCOSITY INJECTION RESIN - NORMAL POT LIFE
DESCRIPTION
Sikadur®-52 Injection Normal is a 2-part, epoxy, low viscosity, normal pot life, injection resin specially formulated for crack injection work by either pressure injection or gravity feed techniques.
USES
Sikadur®-52 Injection Normal may only be used by experienced professionals.
Crack injection resin
Fills and seals voids and cracks in structures such as bridges, civil engineering structures, industrial and residential buildings, e.g. columns, beams, foundations, walls, floors and water retaining structures.
Structural bonding
Preventing ingress of water and infiltration of reinforcement corrosion promoting substances
CHARACTERISTICS / ADVANTAGES
Injection temperature range +5 °C to +30 °C
Good adhesion to concrete, masonry, stone, steel and wood substrates
Suitable for both, dry and damp conditions
Maximum crack width 5,0 mm
Good mechanical properties
Two grades for different climatic conditions
High mechanical and adhesive strengths
Hard but not brittle
Low viscosity
Injectable with single component pumps
APPROVALS / STANDARDS
CE Marking and Declaration of Performance to EN 1504-5 - Concrete injection
Fire Testing DIN EN 13501-1, Sikadur®-52 Injection
Normal, MPA Braunschweig, Test report No. K3604/805/13-MPA BS

PRODUCT INFORMATION
Packaging Parts A+B 1 kg pre-batched unit
Colour Part A Transparent Part B Brownish
Part A+B mixed Yellowish-brownish
Shelf Life 24 months from date of production
CODE: N3089743
(N3089743)
Be The First To Review This Product!
Help other GFC fasteners and construction products users shop smarter by writing reviews for products you have purchased.
Others Also Bought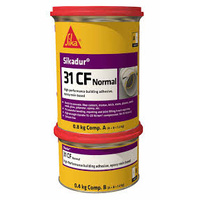 Sika Sikadur 31 CF Normal 2 Part Epoxy Adhesive 0.7ltr
$43.18
excl GST
Related Products