Sika Monotop Fairing Coat 18kg
THIN LAYER SEALING AND LEVELLING MORTAR
DESCRIPTION
Sika MonoTop® Fairing Coat (NZ) is a one component,
polymer modified, cementitious levelling mortar containing reactive silica fume. Sika MonoTop® Fairing
Coat (NZ) is part of the MonoTop System for concrete
repair and protection.
USES
Sika MonoTop® Fairing Coat (NZ) is used as a thin layer levelling and protective sealing mortar on concrete, mortar and masonry surfaces.
Typical applications are:
Filling honeycombed or surface damaged concrete.
Levelling off surface imperfections caused by faulty formwork.
Re-profiling of damaged corners and edges.
Fairing coat before application of other coatings.
For use in conjunction with the Sika MonoTop Repair System to provide a smooth, even and uniform finish.
CHARACTERISTICS / ADVANTAGES
One component, mix with water only.
Thin layer applications possible.
Excellent workability.
Good substrate adhesion.
Good mechanical strength.
Improved sulphate resistance.
Good resistance to water and chloride ion penetration.

PRODUCT INFORMATION
Packaging 18 kg bag
Appearance / Colour Light grey powder. Mid grey when applied.
Shelf Life Six (6) months from date of manufacture when stored as stated.
CODE: N30447878
(N30447878)
Be The First To Review This Product!
Help other GFC fasteners and construction products users shop smarter by writing reviews for products you have purchased.
Others Also Bought
Tecfi SINTO Green ST EE Pure Epoxy Resin 470ml
$76.63
excl GST
$19.70
excl GST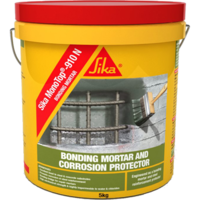 Sika Monotop 910N Bonding Primer 4kg
$121.22
excl GST
Related Products