Cemix Concrete Dissolver 500ml
DESCRIPTION:
Cemix® Concrete Dissolver is a "mineral-acid" alternative with no sulfuric, muriatic, hydrochloric or phosphoric acids. It has no fumes and is 100% biodegradable, nontoxic and environmentally green liquid. It attacks the cement in concrete, completely dissolving the hardened concrete to a mushy substance that is rinseable with a high-pressure washer using normal tap water.
It can be used to remove cured (hardened) cement, concrete, mortar, grout and any product containing cement. It contains no acid and will not harm painted surfaces, tools, metal surfaces, plastic surfaces, or any type of plants or vegetation. It is easily neutralized and diluted with water. It is fast acting but not instantaneous, so correct application of the liquid to the material is the key to success. It is a labour - saving product designed to be operator safe and to eliminate hammering, scraping and acid washing of tools, equipment, and building surfaces.
Note:
Prolonged exposure to paint or steel may result in surface damage. Always ensure a test area is carried out before doing the entire surface.
TYPICAL APPLICATION/USES:
Cemix® Concrete Dissolver is especially useful to dissolve hardened concrete on ready-mix trucks, vehicles, forms, moulds, joinery, bricks, wheel barrows, pumps, trowels, screeds, Concrete Saws, Slip-Form Pavers, Augers, and any place cement can come into contact with.
ADVANTAGES:
• Acidic in the way a lemon or orange is, but does not contain any acid.
• Biodegradable.
• Cleans tools without hammering or scraping.
• Easy to use.
• Water neutralized.
SIZE: 500ml
CODE: WDR36
(WDR36)
Be The First To Review This Product!
Help other GFC fasteners and construction products users shop smarter by writing reviews for products you have purchased.
Others Also Bought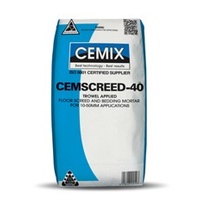 $22.03
excl GST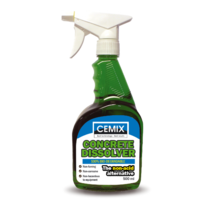 Cemix Concrete Dissolver 20ltr
$515.61
excl GST
Related Products